LOCATION
Live Oak Canyon Pumpkin Farm
32335 Live Oak Canyon Road
Redlands, California 92373

Located off of Interstate hwy 10
Live Oak Canyon Farm offers both Free and Premium Pay Parking lots.
View Parking Map
WE RECOMMEND
Wear closed toed shoes to Live Oak Canyon Pumpkin Farm and socks on the inflatable rides.

Wear weather appropriate clothing including hats and sun block.

Please be kind to the employees. They are just doing their job and trying to keep you safe.

Check our Website for Hours and Specials

Tag us on Instagram and Facebook with your Pictures from Live Oak Canyon Pumpkin Farm you may get a PRIZE!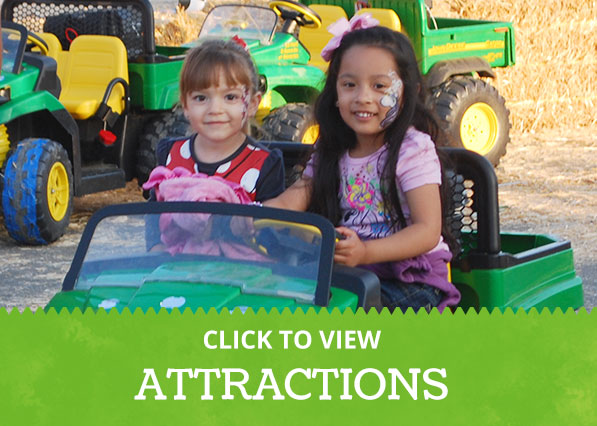 WHAT WE OFFER AT LIVE OAK CANYON
Pumpkins,
Petting Zoo,
Field Trips, 
Snack Bars,
Inflatable Rides & Slides, Mechanical Kiddie Rides, Games, Bungee Jump, Bobbles, Pony Rides, Face Painting, Train Rides, Photo ops and much MORE!
Our snack bar will be open on dates from September 25th – October 31st (View Calendar). We will have water bottles available for purchase at the Ticket Counter. 
Outside food, snacks and beverages are NOT allowed at the Live Oak Canyon Pumpkin Farm. Coolers are not permitted. All belongings are subject to inspection before entering The Live Oak Canyon Pumpkin Farm.


SMOKING
Live Oak Canyon Pumpkin Farm is a non-smoking, non-vape event.


ANIMALS
Dogs are NOT allowed at Live Oak Canyon Pumpkin Farm. Service Animals must be kept on a leash at all times. The animals in the Petting Zoo may jump or bite. Enter at your own risk.  Remember these are animals and please be respectful.


Visitors 15 and younger need to be accompanied by an adult to enter Live Oak Canyon Pumpkin Farm.

Any items found on the farm will be taken to the General Store. To inquire about lost items please e-mail

[email protected]

 with a detailed description and we will do our best to locate them.
Located at the Main Ticket Booth near the Entrance.


Please report missing children to the "Main Ticket Booth" near the entrance of Live Oak Canyon Pumpkin Farm. Found children will be escorted to the Main Entrance Manager.


* Guns, knives, stun-guns, tasers, mace, pepper spray, tear gas or any other firearms or weapons, regardless of whether the guest holds a concealed weapons permit.
* Narcotics or other illegal substances
* Cans or glass bottles
* Clothing or exposed tattoos that are indecent
* Outside alcohol
* Photography Tripods
* Drones or remote controlled surveillance devices
ANY DANGEROUS, UNLAWFUL OR PROHIBITED ITEMS THAT ARE SURRENDERED AT THE GATE WILL NOT BE RETURNED. PLEASE LEAVE THESE ITEMS AT HOME.
These events are being filmed and photographed. Your entry constitutes your consent to be filmed and/or photographed and your likeness to be reproduced in productions relating to Live Oak Canyon Pumpkin Farm in perpetuity.
WE ACCEPT

NOTE: We only accept Smart Cards (chip enabled) or Apple Pay. Sorry, we do not accept magnetic strip swipe cards.