Live Oak Canyon Farm Pumpkin Patch and Farmer's Market is open daily from September 25th – October 31st​, 2020.
Ticket Prices
Please NOTE: We have expanded Weekday hours and reduced prices to accommodate additional guests in a safe environment.
For the week of 10/26-10/31 our admission pricing is:
Monday to Friday:
Noon – 4pm:
$9 adults
$4 children
Monday-Thursday After 4pm:
$12 adults
$7 children
Friday After 4pm:
$17 adults
$12 children
Saturday before 2pm
$15 adults
$10 children
Saturday after 2pm
$20 adults
$15 children
Kids under 2 are Free
Important Information:
The last tickets for FARM ENTRY are sold 1 hour before we close.
Corn Maze entrance closes 1 hour before farm closes. 
We may close attractions due to weather. Heat, Wind, Rain for your safety.
Admission & Parking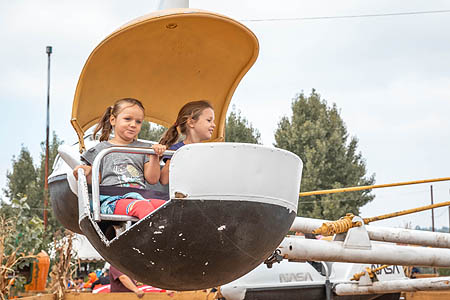 Please note as seasons change, so do our crops and the farm itself. Every year we try to respond to our visitors' desires and anticipate what will make a better experience. As a result, we have been working hard bringing the farm to life with new improvements throughout as well as adding many new features and 50+ attractions. We are aware that this may cause some inconvenience to those who just come for a pumpkin. For those who feel it is unwarranted to pay to walk on a farm, please consider all that we must do for visitors to have a safe and enjoyable experience. From insurance and safety, to permits and fees, to staffing and layout, the cost are great. There many things to see and do on the farm that are included with your admission. We want to welcome you to the farm for many years and thank you in advanced for your support and understanding.