Live Oak Canyon Farm Pumpkin Patch Is Open September 16th – October​ 31st, 2021.
Please note: The U-Pick Pumpkin Fields and Tractor Hay Ride close at Sunset. Entry to the Corn Maze closes 1 hour before closing time to allow visitors to complete the maze. Entry to other attractions may close up to 1 hour before closing time if needed to allow everyone in line to enter.
Live Oak Canyon no longer accepts outdated paper tickets for attractions from prior seasons. Guests must purchase electronic Farm Cards for rides and attractions that are not included with admission. Any Farm Cards that have unused credits can be used during Christmas Season.
Free Parking
Sep 16th – 18th
Sep 23rd – 25th
Sep 26th – 29th
Sep 30th
Oct 1st – 2nd
Oct 3rd – 6th
Oct 4th – FIRST RESPONDERS DAY
Oct 7th – 9th
Oct 10th – 13th
Oct 14th
Oct 15th – 16th
Oct 17th – 20th
Oct 21th
Oct 22nd – 23rd
Oct 24th – 27th
Oct 28th
Oct 29th – 30th
Admission & Parking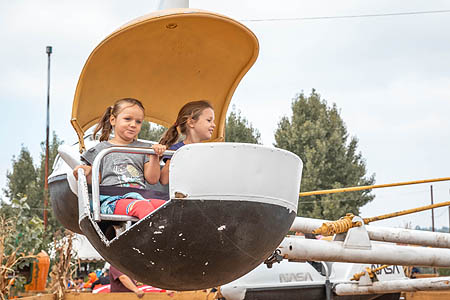 Please note as seasons change, so do our crops and the farm itself. Every year we try to respond to our visitors' desires and anticipate what will make a better experience. As a result, we have been working hard bringing the farm to life with new improvements throughout as well as adding many new features and 50+ attractions. We are aware that this may cause some inconvenience to those who just come for a pumpkin. For those who feel it is unwarranted to pay to walk on a farm, please consider all that we must do for visitors to have a safe and enjoyable experience. From insurance and safety, to permits and fees, to staffing and layout, the cost are great. There many things to see and do on the farm that are included with your admission. We want to welcome you to the farm for many years and thank you in advanced for your support and understanding.